15.04.2022
All-Russian Karate Games
07.05.2022 — 08.05.2022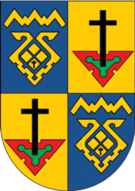 will be held in the city of Toglsitting on May 7th-8th.
Participants - children, cadets, juniors, adults, veterans.
Rules - WKC.
Categories - individual kata and kumite.
Kumite shobu ippon and shobu sanbon.

Tolyatti also known as Togliatti, is a city in Samara Oblast, Russia. Named after Italian communist politician Palmiro Togliatti, it is the largest city in Russia which does not serve as the administrative center of a federal subject. It has a population of 719,632.
---